The 7th of July marked the second year of Taihei's existence and represented a hard year's worth of work.  In the past year, the Taihei guys were able to meet many new people, expand into Okinawa, and create a Japanese edition of the site.  We continue to hear lots of great stories and we continue to pursue the whale of all craft beer shops.
Just like last year, the Taihei guys felt that it was important to give something back to the community and to Japan in a way to thank the gods for a great year.  Last year, the pile of garbage we found around Yuigahama continued to inspire, so we decided to move to a different area to see how much garbage we could find closer to Enoshima.
There was one small change in the event in that we also added a big party to end the evening.  We booked Antenna America's 6th floor party room and invited everyone to come.  It was definitely a night to remember, assuming you didn't drink too much.
The Event
Taihei's anniversary unfortunately lies in the middle of the rainy season in Japan.  This meant that a lot of people were too afraid to brave the potential rain.  Only 3 brave souls were willing to face down the rain gods and met at Kugenuma Kaigan beach.
The beach looked cleaner than the previous year in Kamakura, but looks can be deceiving.  Once our brave souls got to work, it turned out that there was plenty of trash to grab over the course of a short hour.  Within the small section of beach, we picked up 6 bags of garbage, with enough cigarette butts and plastics to make anyone cry.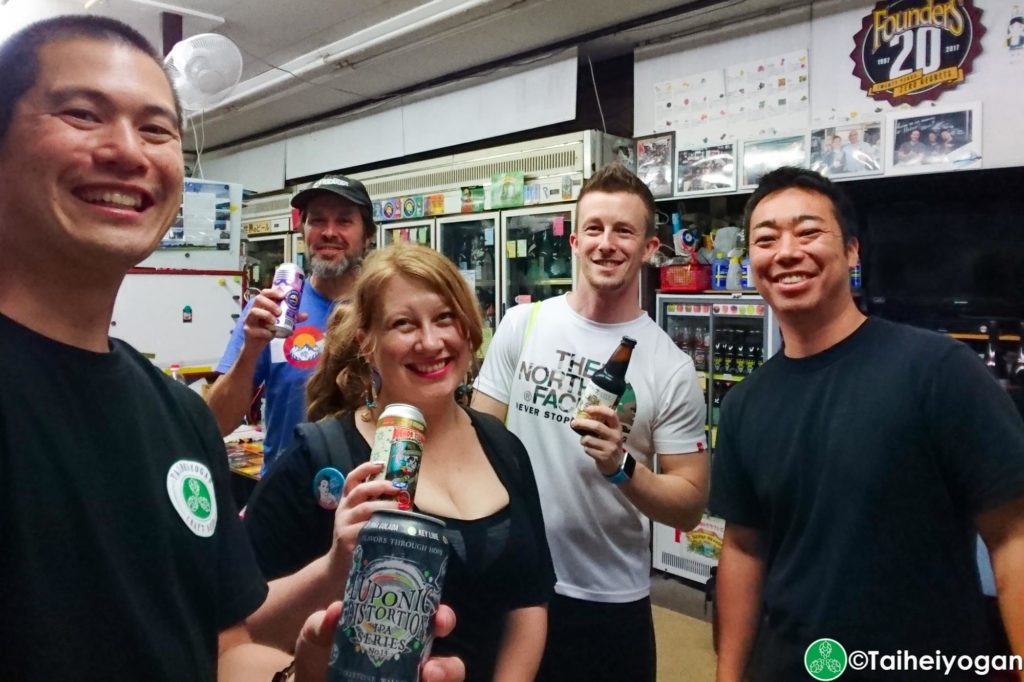 After the event, we walked over to Heiwa liquor store and grabbed a cold one, courtesy of both Heiwa and Nagano Trading.  It was a perfect otsukaresama beer and we also met another group of other beach cleaners.  Heiwa is a great place to stop by to grab a beer and even a plastic bag to clean the beach.
Thanks to another sponsor, AQ Bevolution, we were able to treat the beach cleaners to a nice dinner at Grano in Fujisawa.  Before heading to the party at Antenna America, we stopped by Grano to say hi to Kenny, and get a little food in our stomachs before the main event.
At night, the Taihei boys met up at Antenna America (Kannai) and thanks to the collaborative event, we had a great party.  We put on 4 beers at 500 yen a pint, one of the best prices in Japan.  It was an intimate family friendly party with people coming to play games and enjoy a good selection of beers.
Another year is done and dusted for Taihei and we hopefully made the gods happy by picking up some trash.  Be sure to bring a garbage bag the next time you are at the beach and take a few minutes to help Mother Nature, and check with Heiwa and see if they have any spare bags for you to use.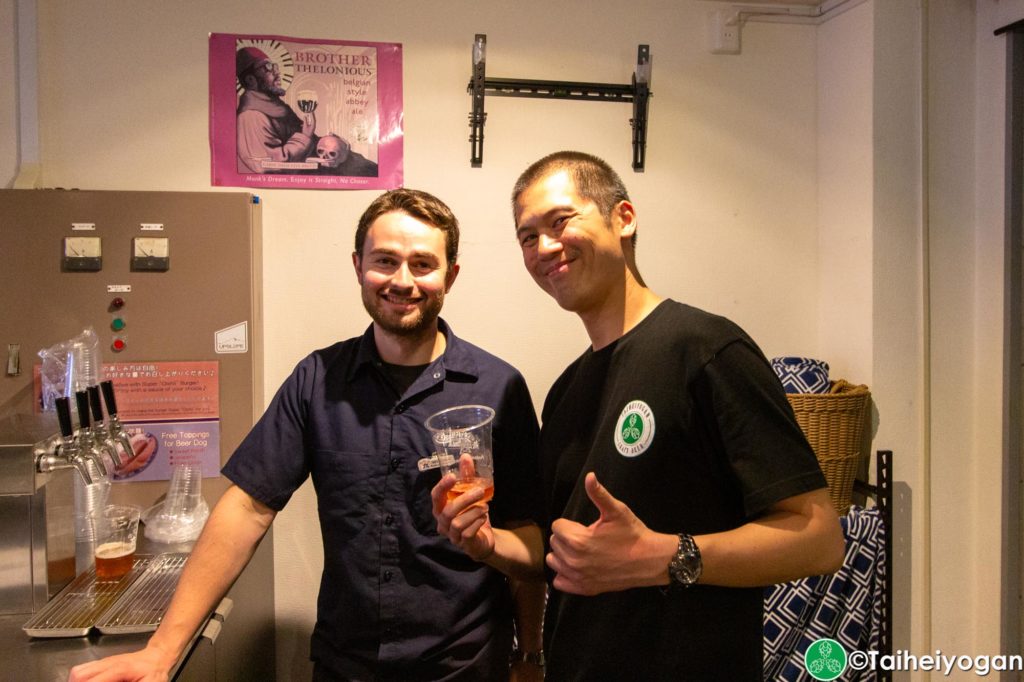 Thank you to our supporters.
Nagano Trading
Nagano Trading did a lot to help us from the top down.  They provided us with a free beer at Heiwa as well as graciously giving us a venue at Antenna America.  We worked together to organize a great event.  You can find the beers they import at Antenna America, or other craft beer bars around Japan.
Antenna America
Antenna America (Kannai) is an American craft beer mecca in Yokohama.  The people at Antenna America worked with us to curate a wonderful taplist for the party and helped run the party.  It was a lot of work on both sides but their knowledge in the beers available really helped us put on a great party.
AQ Bevolution
AQ Bevolution has been a long-time supporter of Taiheiyogan and they were gracious to help us with a little money to thank the beach cleaners.  Without their help, we wouldn't have been able to enjoy a good meal and good beers from America and Europe after the beach clean-up.
Heiwa Liquor Store
Heiwa is a small mom and pop liquor store in Kugenuma.  Aki, the owner, let us use it as a base of operations to take a load off after cleaning the beach.  It was the perfect place to grab a quick brew and rest our dogs right after the beach.
Grano
Grano is a fun craft beer shop in Fujisawa and Kenny is a great guy.  We booked a large area for our after beach clean-up crew, but due to the bad weather we just took their patio table.  It was the perfect spot with a cool breeze and delicious pizzas.  They have been one of the original supporters of Taiheiyogan and they have the selection of beers and food to make us fans of Grano too.