By – Josh
The guys at Taiheiyogan have asked me to briefly review five craft beer bars of my own choosing. Truth be known, I have far too many favorites to be able to make a true "top five" list, so I have decided to choose five bars of which I know and love, yet differ from each other in unique ways. The five I will review this time around are presented in alphabetical order as follows:
The newest bar in this list opened just a few months ago (end of 2018) near Shiki Station in Saitama. North Village is owned and operated by the charismatic American barman "Hawks," whose genuine good-nature alone makes it worthwhile to take a trip up and shoot the breeze over a few pints. I actually found out about the place from a reader of my beer list on reddit, who I eventually met at the bar itself. Turns out he was the guy who first turned the owner onto craft beer in Japan in the first place; what a small beer world we still live in!
Why I keep coming back:
Twelve taps of craft beer, well-balanced between foreign and domestic offerings. Usual bar snacks and appetizers are on hand, as well as main dishes like daily pastas and some truly great steaks. Most of the patrons are regulars who are local to the area, but friendly and inviting to new faces. Getting nicely lubricated in good company is what it's all about.
The bar takes its moniker from the airport code for Portland, Oregon and, as expected, it's all about Portland here with Oregonian books, magazines, pictures, and trinkets all throughout the bar. The Decemberists, The Thermals, and good old fashioned Seattle grunge can be heard playing in the background here, and a nice chunk of the old mysteriously famous PDX airport carpet hangs proudly on the wall. Hailing from the Pacific Northwest myself, I feel right at home.
Why I keep coming back:
Ten craft beer taps are on hand, with all beers imported from the State of Oregon, and often times a few beers that are not commonly found at other Tokyo bars. The food menu has increased significantly since opening, and now includes quick eats such as wings, chili cheese nachos, quesadillas, and a few heartier items like sliders and toasted sandwiches. Go for the uniqueness, and stay for the laid back PNW atmosphere.
A bit off the beaten path, I can't recall how I first discovered this place a few years ago, but many people I talk with have yet to try it. Meat is the name of the game here, and I still remember viewing it all on the bar's homepage, which first drew my attention to begin with. It's not uncommon to come across the bar master cooking up some BBQ in a charcoal grill out front. The vibe inside is laid-back, cozy, and perfect for enjoying good brews along with a filling meal. Come alone, come with friends, or bring the family; all comers frequent here.
Why I keep coming back:
Eight craft beer taps serve up imported beers, mainly from the US, along with a very large selection of craft beer bottles and cans to choose from. An extensive food menu with a focus on meats, from BBQ, steaks, aged beef, lamb, and some of the best wings in town; just about everything I crave. Come hungry and try and resist the urge to order more than you can conceivably eat, while factoring in how many pints you can down.
This cash on demand bar is on the first floor along with few refrigerators of bottles and cans, with a standing counter and a few stools, excellent for rubbing elbows and mingling. The second floor is dedicated to low tables and floor cushions, while the third floor has ample table seating. Recurring events are some of the best reasons to stop by here, from Todd's Taco Tuesday, Meat Day (Niku no Hi), open mic nights, sporting events, and special beer events that attract the who's who of craft beer.
Why I keep coming back:
Since the owners are actual beer importers (Beer Cats and AQ Bevolution), imports are the name of the game. Two sizes for draft beers are offered, with the smallest size being equivalent to a "pint" at most other bars, and the twice as large "Titan" size. You can drink the bottles and cans on-site or take them home if you're still sober enough to remember.  A limited regular food menu is available, from various types of gyoza, shumai, potato wedges, etc. Another nice perk is that it's permitted to bring in outside food, so feel free to grab some take-out or snacks on the way to the bar.
A relatively small but not cramped bar with many counter seats, tables along the wall, and their new and growing standing-only back area, Watering Hole is a lively venue often filled to capacity. Well known to both locals and tourists alike, with friendly staff and a great overall vibe, it's never difficult to strike up a conversation with someone new. Special food events and tap takeovers are not uncommon, as well. In fact, the first time I went there back in the day, the importer Beer Cats was doing a tap takeover, so I was fortunate enough to have an introduction to two great companies for the price of one.
Why I keep coming back:
An impressive 21 beers on tap with a mixture of Japanese and imports, along with a large list of cans and bottles to choose from, with a varied and regularly updated food menu. All the basic appetizers can be found plus salads, gyoza, and main dishes created with Japanese-fusion twists. Many of the employees have been working long-term, so I enjoy popping in to catch up with all the familiar faces again. My typical M.O. is to kick off the evening here before things get too crazy, then move on to the next location for a meal and more boozing.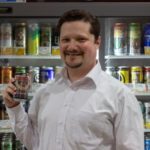 About Josh: Josh created a Tokyo craft beer establishment list on Reddit in November 2014, which he continually updates under the handle "Legal_Rampage" about every 6 months (currently v.7). With an insatiable thirst for quality pints, he ventures about in a ceaseless attempt to visit as many drinking spots as possible in Tokyo and beyond.