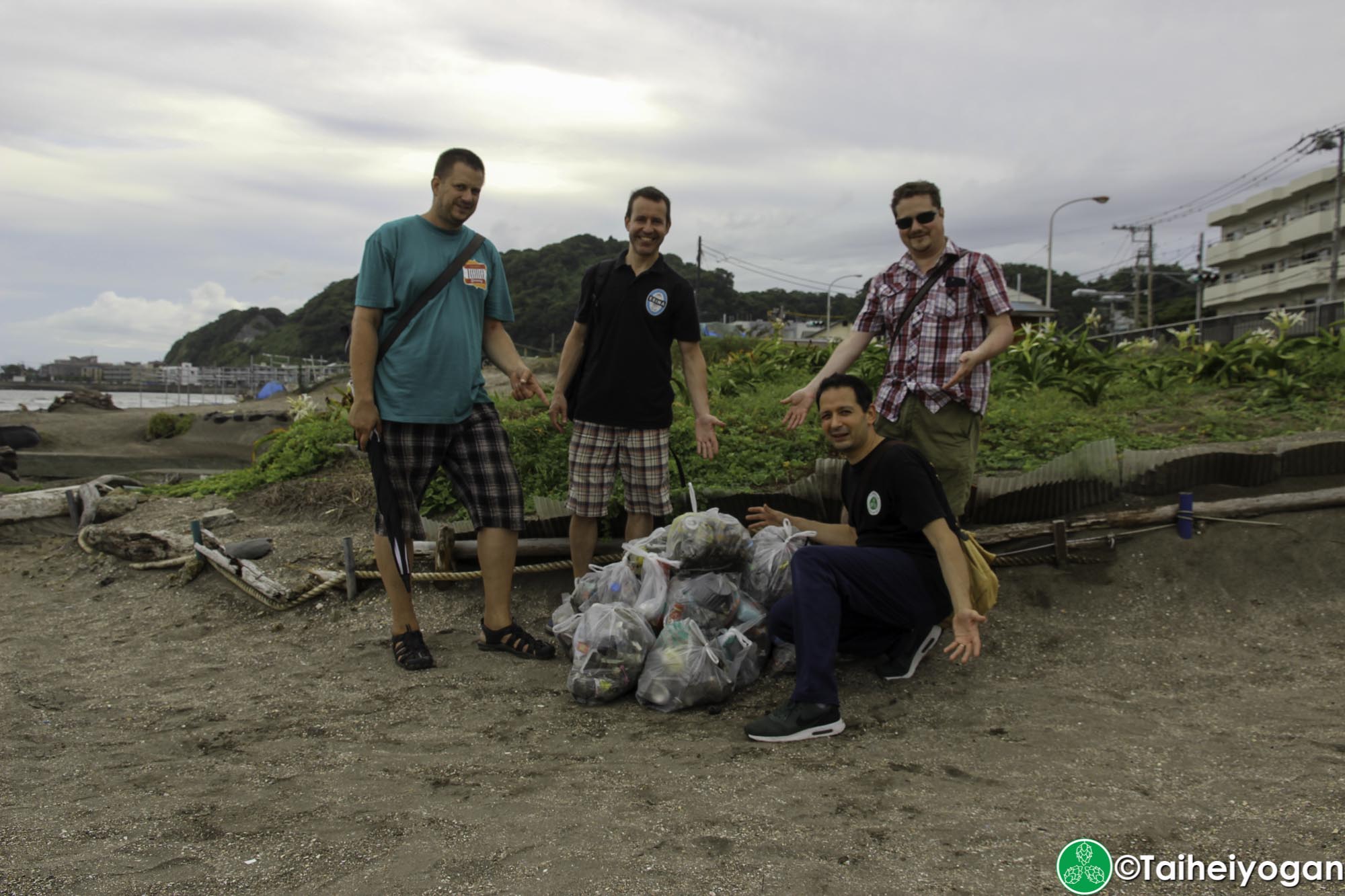 The 7th of July marked Taihei's first year and it been a lot of enjoyable work.  In the course of a year, the Taihei guys met a lot of friendly people; businesses; breweries; hop heads; beer geeks; bloggers; importers and exporters; and just about anyone who was willing to share a beer with them and tell their story to Taihei.
The Taihei guys felt that it was important to give something back to the community and to Japan in some way to say thank you for a great year.  This idea was cooked up when reading about Saltwater Brewery creating edible six pack rings to reduce the amount of plastic found in the ocean.  The Taihei guys also knew it would be an excellent excuse to play hooky from their normal day jobs and targeted Kamakura for the beach clean-up.
The Event
Days leading to the event, the weather threatened to be a problem and Taihei couldn't get enough people for our target of 10 to 15 people.  The five brave souls that were willing to take the chance of being rained on met at Yuigahama Station and the event was kicked-off by cracking opening a few cold ones.
While everyone walked to the beach, everyone was picking up trash while having chatting about everything under the sun.  Once on the beach, everyone got to work to pick up all kinds of rubbish and the Japanese on the beach were thanking everyone for what they were doing.  This inspired some of them to start picking up trash themselves (guilt trip most likely).  In one hour and 15 minutes, everyone was taken aback about the amount of trash and glass that was collected and how much more was on the beach, especially after a couple rainy days.
So the next time you are on the beach this summer, take a bag and in only 30 minutes of your time, pick up some trash; then guilt trip your friends to contribute to Mother Earth.
Thank you to our supporters.
KOBO Brewery
Kobo Brewery's brewmaster, Kotas-san was on the beach furiously picking up trash as well as being a sponsor of the event.  He has been making beer for over 20 years in his brewing career while winning many awards for his beers.  He partnered up with his friend Boris Priesol to create Kobo Brewery.  Kotas-san took a break from his Kanto sales tour to help out.  You will see his beers in more and more places this month.
Ale House
Ale House is only a five minute walk from the Yamanote line in the Ikebukoro area. They have ten beers on tap with a wide range of bottles for your delight.  Sometimes they have live music sessions and football games on the TV.  Of course Ale House has a kitchen and when you are feeling peckish, they will surely have something for you.
Tall Poppy Media
The owner of Tall Poppy Media has been a fan of Taihei since launching.  Tall Poppy Media provides a variety of professional English Language Services such as academic papers, promotional material and content creation.  Recently, Tall Poppy worked with a designer clothing brand (Inink) to assist with describing their products and company for English media.
Ebina Beer
Taihei is no stranger to Ebina Beer's Tomas Rehak and Taihei was lucky that Tom was able to take time off from his brewery for this event.  Ebina Beer is being seen in more and more bars and restaurants in the Kanto area, but you need to head to Ebina to enjoy their beer right from the source.